Messy Church
Mes
sy Church is a way to engage young families and bring the good news of Jesus Christ into their lives. It's Church without the feel of Church. The Messy Church movement began in 2004 at a Church near Portsmouth in to take the Christian message to children in their area. Since then the idea has spread across many countries and different types of churches.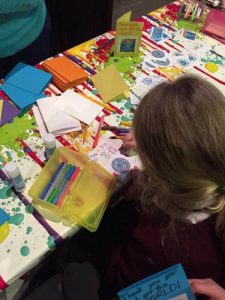 Organised by Sarah McGregor, Sue Barber and a team of volunteers at the Church, the Guiseley version is designed for children aged between 4 and 11 to come along to the Church for a couple of hours after school with their parents, grandparents or carers and join in a whole range of craft and messy activities. The activities are followed by a hot meal, served to the children and their families all sitting down together.
St Oswald's holds a Messy Church usually every third Thursday in the month. The Messy Church movement is based on conveying the Christian message through creative activities and hospitality for families.
Click on the photo to see more images
Youth Group
Meet on the second and fourth Fridays of the month, from 7 until 9 in St Oswald's Church except in School Holidays.