Our Sunday School groups
We meet upstairs in Saint Oswald's Parish Centre, on Church Street, at 9:25 am every Sunday, including Parade Sundays, and join the service in Church at about 10:30 am. We share our news, sing, have prayers and a Bible story. All parents/carers are welcome to bring their children to Sunday School
Little Fishes
Children age 5 and under, with their parent or carer, remain upstairs with 2 leaders and have craft activities suitable for their age group. We also have toys for the babies and toddlers in this group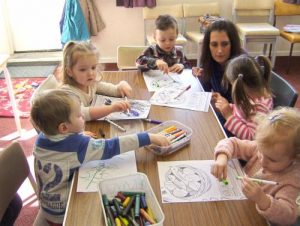 When we go into church there is a play area, the Calverley Pew, with soft toys and books for under 3s.
Pathfinders
Children age 6 and over go downstairs with two of our Sunday School  leaders to run the session which includes worksheets, craft work , and further discussion about the theme for the day.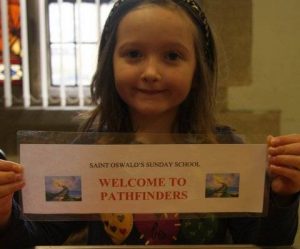 On Good Fridays we run a children's event in St Oswald's Church, with a wide range of activities,crafts and music based on the theme of the Easter story.  All children and their parents/carers are welcome   (please note: under 5s must have a parent or guardian to stay with them). This is a free event and is always very popular!
On Christmas Eve we have a Christingle Service, with a collection for the Children's Society, and a children's Crib Service, with traditional Christmas carols and a Nativity Play by our Sunday School children.
During Lent we encourage the children and parents to collect money for a nominated charity.
All children, of any age, are warmly welcomed to our Sunday Schools.