Scroll down the page to see details of our church groups
Parish Fellowship, Mothers' Union, Have I Got Christian News For You?  Parish Magazine, Flower Team, Cleaning Team, More Tea? Churchyard and Photo Galleries.
Christ in Crisis
I am looking for someone, possibly two people to take over the running of "Christ in Crisis". This is a scheme where birthday cards are sent to people who have joined the scheme and in return they donate a sum of money which is then used for any emergency at home or abroad. The scheme was started in 1984 by Kay Baxter and myself. Graham Siswick took over when Kay moved to Spain. Now that Graham has moved to Wetherby, I need someone who has more energy than I have at the moment to take over. It would be a shame to let this worthwhile scheme fold. If you can help please contact me as soon as possible, thank you.
Diane Gill
Guiseley with Esholt Parish Fellowship
The Fellowship meets at 2pm in the Parish Room on the last Monday of each month from September to June every year. The aim of the Fellowship is to encourage people to come together in fellowship and friendship and to socialise, listen to good speakers, watch films, slides and DVDs, enjoy music and flower demonstrations, and much more. We hold an annual coffee morning at the Scout Hut every October, and we celebrate Christmas with a party.
Click here to read the Parish Fellowship Report
Chair: Paul Brylov
Secretary: Paul Brylov
Treasurer: Medi Jones
St Oswald's Mothers Union
Christian Care for Families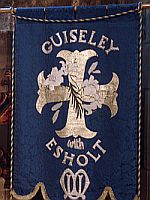 Branch Leader: Gwyneth Bassett
Treasurer: Hilary Watson
Minute Secretary:  Judith Archdale
Social Secretary:   Eileen Shaw
Click here to see MU Programme
and latest MU Report
Guiseley/Esholt branch of the Mothers' Union is an active group, meeting on the 1st Wednesday in the month. Members are independently involved in various activities in the parish e.g. – baptism visiting, parents and tots, school governors, church cleaning/flower arranging, pastoral visiting and assisting with the chalice at Eucharist.
Please feel free to come to our meetings – potential new members are always welcome. For more information about Mothers' Union visit www.mothersunion.org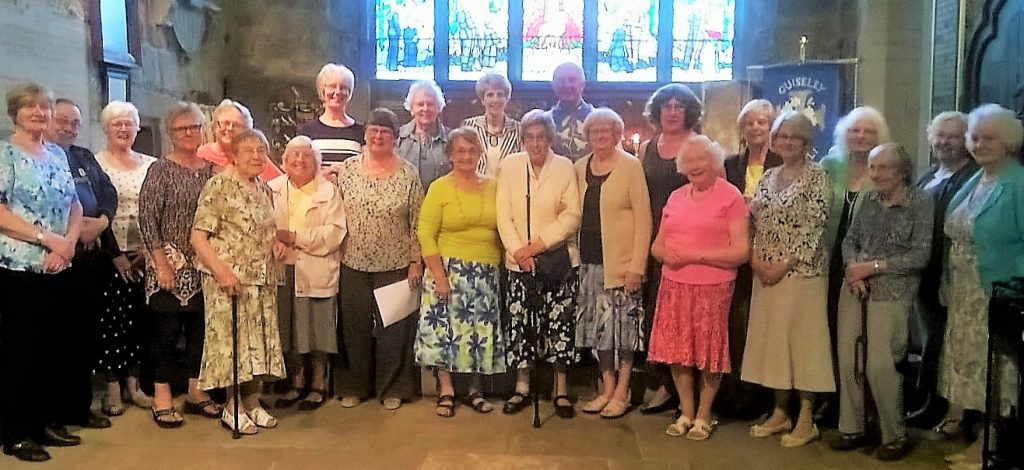 Away from it all holidays
A Christian Charity, the Mothers' Union, is committed to fighting poverty, injustice and tackling family issues working through our 4 million members in 83 countries. In the UK, part of our outreach is to provide holidays for families under stress. In the Bradford Diocese we own and run a modern, static caravan at Primrose Valley near Filey. It sleeps 6 (plus travel cot) and is on a coastal site with a swimming pool, play areas and easy access to Filey. Our holidays run from Saturday to Saturday between Easter and the end of October. For further information, should you know of a family who would benefit from one of our holidays, please phone Denise Barrett on 01274 616818.
HIGCNFY? Have I Got Christian News For You?
Meet every second Monday in St Oswald's Carlton Room to look at stories and current affairs from the past and present, linking them to what the Bible has to say on the subject. Reflect on what is happening in today's world and what we as Christians should be thinking/doing about it. Have an opinion and respect the opinion of others.
The Parish Magazine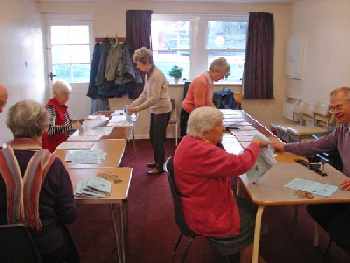 The Parish Magazine is published at the start of the month and compiled in the Carlton Room usually on the last Friday of each month at 9 am. After being printed in the Parish Office, it is assembled by a group of volunteers. The completed copies are then placed in St Oswald's Church for collection by a team of distributors who deliver them to parishioners. Copies are taken down to St Paul's Church for distribution there.
The Flower Team
Another group of volunteers is the team of flower arrangers who, led by Norma Scatchard, meet in the church every Thursday at 10.30 am after the morning Eucharist to set out the display.  The cost of the flowers is partially covered by donations in memory of loved ones. 
Cleaning Team
A third group of ladies (and men!) meet in the church on Tuesday mornings at 9 am and Thursday mornings at 10.30 am to make sure it is clean for the Sunday services.
More Tea, Vicar?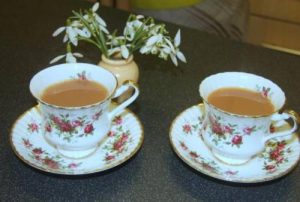 More Tea, Vicar? is a group of people who meet for tea, cake, chat (not to say gossip) and fellowship at 2 o'clock on the second Monday in every month in the Parish Room Guiseley (opposite St Oswald's Church). Please feel free to come and join us. You will be made most welcome! Bring a friend to enjoy this purely social time. They make an excellent cuppa!
Guiseley Churchyard
Leeds City Council maintain the grass in Guiseley churchyard; families are technically responsible for their graves. Sadly, the latter are often forgotten, or no family members survive to exercise their responsibility. Then the churchyard can easily get out of control, as it has in recent years despite the best efforts of a few brave souls!  However, the observant among you will have noticed there has been a dramatic improvement and this is due to the solitary efforts of the redoutable PETER WOOD whose energy seems to know no bounds! WE EXTEND OUR HEARTIEST THANKS TO PETER.
If anyone would like to help Peter in the churchyard, please get in touch with the Rector who will pass on his phone number.
Photo Galleries