Join the choir!
We welcome new singers of all ages and ability, so if you would like to come along, please join us at choir practice in Church from 7.00pm to 8.30pm on a Thursday evening.  We sing on Sundays at St Oswald's Church in Guiseley at the weekly 9.30am service of Holy Communion, and fortnightly at Choral Evensong at 6pm.

For more information contact Martin Baker, Director of Music.
 choir@guiseleywithesholt.org.uk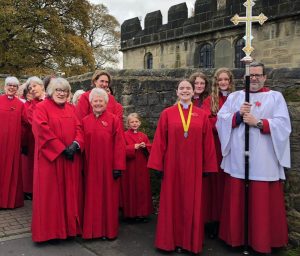 About The Choir by Director of Music, Martin Baker

The choir of St Oswald's currently consists of 26 members, comprising 4 children and 22 adults (9 Sopranos, 5 Altos, 4 Tenors and 4 Basses). We are still recruiting sopranos and have welcomed two ladies and a girl into the choir. I have also recently recruited another tenor to join the ranks. There are four singers who join us for special occasions, Glyn and Kath travel over from Manchester, Barbara from Brighouse and Lucy travels up from London.
The choir remains an integral part of the church family; its key role is to lead the worship at regular and occasional services in the church throughout the year. These include the 9.30 Parish Communion, a twice-monthly full Choral Evensong and monthly Choral Matins and Compline. The choir sings at all services between September and July and although August is considered a 'choir holiday', many still attend the Sunday morning service. Some of the children are also members of our uniformed organisations and church schools.
Since the last APCM the choir has been extremely busy presenting several concerts in addition to the normal pattern of practice and worship. We were invited to Wakefield and Bradford Cathedrals where we sang Choral Evensong last summer. The Dean and Chapter were very impressed, and we have been invited back this year.
Our annual summer concert and 'get together' was on 22nd July. This is always a good social event and a lovely way to finish the term.
Advent and Christmas were hectic with 16 separate events including two carol services and four external concerts at 'The Old Barn' and Primrose Court. We did find some time to socialise when we had our annual lunch at Everybody's in Guiseley.
Compline continues to be a regular service, taking place on the first Thursday of the month at 21.00 in the quire. We have also introduced a monthly Choral Matins. This takes place on the 2nd Sunday following the All Age Service.
Passiontide started with 'A Lenten Meditation' at 18.00 on 'Palm' Sunday 14th April. This consisted of music, images and readings for Passiontide and Lent. Holy Week and Easter will be hectic as usual with services on Maundy Thursday, Good Friday, Holy Saturday and two on Easter Sunday. After this the choir will have a well-earned break until Thursday 2nd May for Choir Practice and Compline.
This year, I have introduced a series of Lunchtime Concerts which take place on the 1st Thursday of the month at 12.30. These are preceded by homemade soup and a roll which is served from 12.15.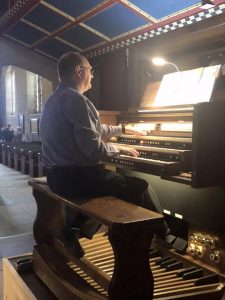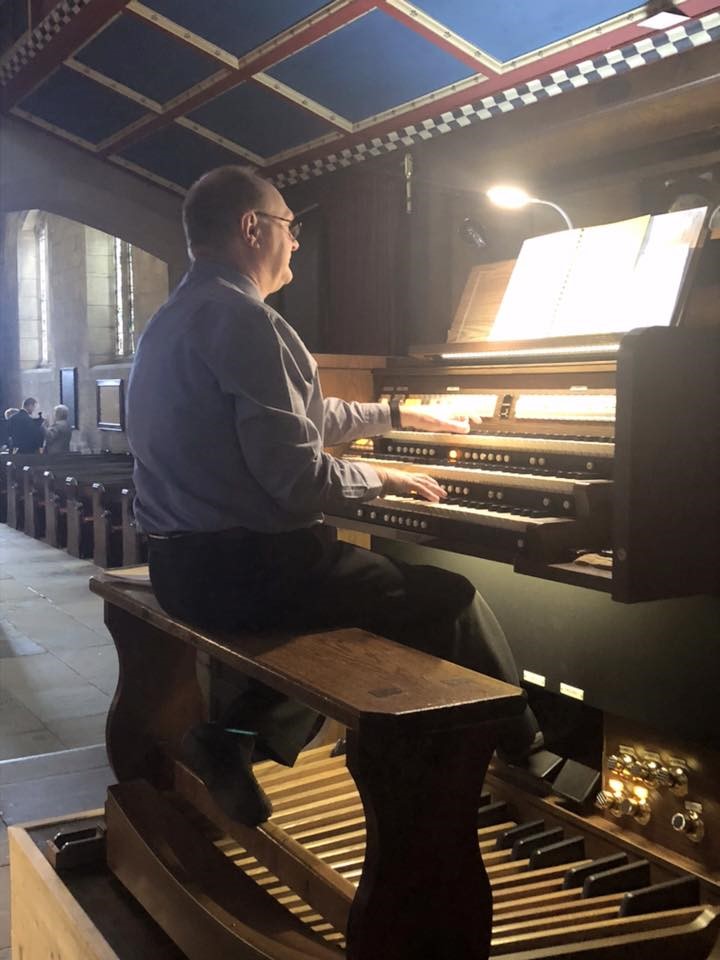 My thanks go to Dennis and Dorothy for making the soup and to Mandy, Ruth and Kevin for serving it. The first two concerts (Organ recital given by me and a vocal recital by Clive and John) were very well supported (60 at the first and 50 at the second) and have raised over £400.00. Concerts are booked through to the end of 2019.
I am currently looking into the possibility of setting up an organ scholarship at St Oswald's. Numbers of organists are diminishing and even universities are finding it difficult to recruit undergraduates to study organ. Hopefully we can play our part in promoting and re-kindling interest in the 'king of instruments' It is still my wish, ultimately, to replace the current Viscount console with a draw-stop version. The sound will be much the same but aesthetically, it will look like a 'proper' console. We are still looking to raise £30k – £35k to make this a reality.
Laus Deo
Martin Baker
April 2019
Training Programme for Choristers
The Royal School of Church Music (RSCM) offers a training programme for choristers which is used by the Choir of St Oswald's Church. This includes a Voice for Life training scheme which leads to the coloured Ribbons & medals to award singers on completion of each level – Light Blue, Dark Blue, Red and Yellow.
A parallel system of awards designed to be assessed through a formal examination is also run by the RSCM – these are called the Bronze, Silver & Gold awards. (In some local RSCM Areas the Bronze and Silver Awards are called Dean's and Bishop's Awards.) For more information see links below.
For further information please contact the Organist and Choirmaster: Martin Baker,  Tel: 07545 310503
Royal School of Church Music, RSCM Bradford Diocese Area
Evensong ~ a precious gift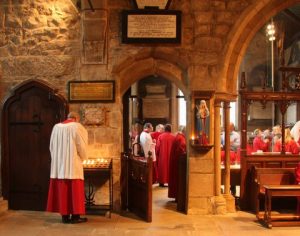 "Prayer Book" Evensong is one of the most precious gifts that the Church of England has inherited from the work of the martyr Thomas Cranmer (Archbishop of Canterbury, 1533-1556). The poetry of the language has moved people for hundreds of years.
Evensong is best appreciated when fully sung and the offering of music allowed to envelop the worshipper. We are thus given permission to worship in a way that stands in stark contrast to more modern forms, where "active participation" is of the essence. At Evensong, we participate fully, but in a different way!
Join us for Choral Evensong at St Oswald's Church Guiseley at 6pm on the second and fourth Sunday  every month (except August). If you are new to this service, there is a printed guide to follow the Order for Evening Prayer which will be helpful in finding your way around.
The Prayer Book may look complex but the aims of this service are simple; to learn about the God who loves us and to offer God our worship.