Bell Ringing at St Oswald's
This slideshow requires JavaScript.
For all enquiries, in the first instance please contact the Tower Captain Jan Alexander (01943 878355).
If you wish to arrange bells for a wedding, please contact a member of the clergy team.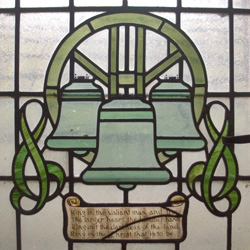 This picture of a bell is part of a window in the ringing chamber at Guiseley. Below the bell, a short inscription is shown:
"Ring in the valiant man and free,

The larger heart, the kindlier hand;

Ring out the darkness of the land,

Ring in the Christ that is to be."
Last verse of the poem "Ring Out, Wild Bells" by Alfred, Lord Tennyson.  Click here to read the complete poem.
Guiseley Bells
Guiseley church has a fine ring of eight bells, the board in the tower showing:
St. Oswald's Guiseley

The eight bells in this tower were recast and rehung with new fittings in a new
cast iron frame in 1946 by Gillett & Johnston, Croydon

The bells were re-dedicated on the 3rd August 1946, by
The Right Reverend Bishop Stanton Jones, D.D.

No.
Note
Weight
Cwts.
Qrs.
Lbs.
1
F
4
3
21
2
E
5
0
13
3
D
5
1
16
4
C
6
0
22
5
Bb
8
0
0
6
A
9
1
4
7
G
12
2
17
8
F
16
3
7
68
1
16

The Venerable Sidney E. Lowe, Archdeacon of Bradford and Rector of Guiseley.
W. M. Brooke, R.G. Rawnsley, Churchwardens
Ringing Times
The bells are currently rung on Sunday mornings between 9 and 9.30am and on Monday evenings between 7.30 and 9pm. There is no ringing on Good Friday or on other Public Holidays. Please contact us if unsure.
Visiting Ringers
We welcome visiting ringers at our normal ringing times. At other times outing organisers, quarter and full peal attempt organisers should email (preferably) or write to the tower secretary requesting the necessary permission. This will allow us to check with the Rector for other bookings. Standard fees apply to visiting ringers outside normal ringing times.
More Information
Other Web Links