When:
16th February 2019 @ 9:30 am
2019-02-16T09:30:00+00:00
2019-02-16T09:45:00+00:00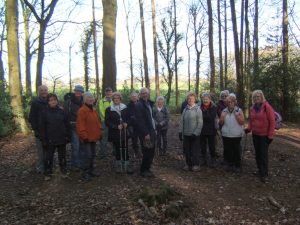 Our next walk will be on 22nd June. Meet at the entrance to Baildon Rugby and Cricket Club at the junction of Jenny Lane and Heygate Lane at 9.30am
Our walk on Saturday 4th May, started from the bridge at Brook Street in Ilkley. We went through Riverside Gardens and over the river up to Owler Park and proceded to the Stations of the Cross near Middleton Lodge, then back along the lane and down to Ilkley through the bluebell woods.
On Saturday 13th April, a cold but bright morning we walked via Wills Gill to Yeadon, stopped for a short break at Engine Fields and then along the old railway line back to Guiseley.
On 16th March half a dozen hardy walkers braved the extreme rainy weather to walk in Heaton and Northcliffe Woods, Shipley.
Our walk on 16th February took us through Spring Woods to Esholt, with a riverside and canal walk and then back through the woods to Guiseley.