When:
14th January 2018 @ 6:00 pm – 6:45 pm
2018-01-14T18:00:00+00:00
2018-01-14T18:45:00+00:00
Evensong a Precious Gift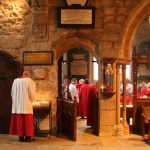 "Prayer Book" Evensong is one of the most precious gifts that the Church of England has inherited from the work of the martyr Thomas Cranmer (Archbishop of Canterbury, 1533-1556). The poetry of the language has moved people for hundreds of years.
Evensong is best appreciated when fully sung and the offering of music allowed to envelop the worshipper. we are thus given permission to wordship in a way that stands in stark contrast to more modern forms, where "active participation" is of the essence. At Evensong, we participate fully, but in a different way!
Join us in Choral Evensong at St Oswald's parish church on the second and fourth Sunday evenings every month except August. If you are new to this service there is guide to follow the Order for Evening Prayer which will be helpful in finding your way around.

 Said Evensong is now taking place on the first, third and any fifth Sunday in the month.
The Prayer Book may look complex but the aims of this service are simple; to learn about the God who loves us and to offer God our worship,